🐾Exciting News!🐾 Lola is expecting a litter of adorable puppies with Spartacus!🐶 
Stay tuned for updates on this incredible journey! 🐾👣
Our German Shepherd Heritage 
Our German Shepherd puppies proudly showcase a heritage that is 100% true to their German roots. They are the result of carefully selected pairings, with both parents originating from respected West German Show Line bloodlines. Within their pedigrees, you'll find a lineage abundant with World Champions, including renowned "VA and V rated dogs" from Germany 🇩🇪. 
Our Pedigrees prominently feature the following World Sieger Champions: 
    •    5X VA Nino von Tronje 
    •    2X World Sieger VA1 Remo vom Fichtenschlag 
    •    World Sieger VA1 Pacco vom Langenbungert 
    •    VA1 World Sieger Ober von Bad Boll 
    •    VA5 Nadja von Jabora 
    •    VA3 Pacco vom Langenbungert 
    •    VA Etoo Aus Wattenscheid 
    •    Vom Elbe Saale 
    •    Winkel Vom Hühnegrab 
We are dedicated to preserving the authenticity of the German Shepherd breed, ensuring that our puppies carry the legacy of excellence that these World Sieger Champions represent.
~Expecting "E Litter" 
Puppies in 2023 ~
VA Spartacus Vom Team Furstenbrunn and Lola Vom Elbe Saale Winkel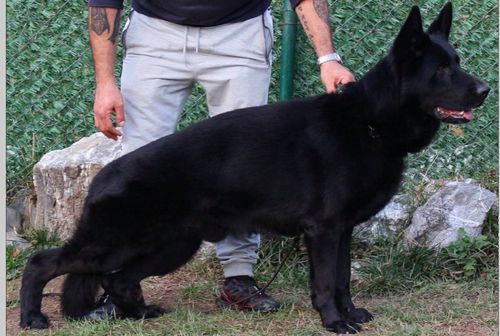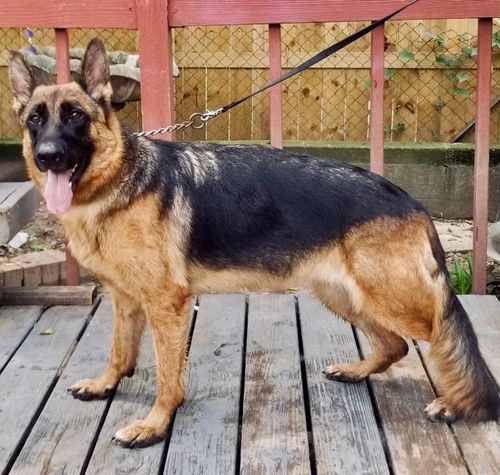 ~E Litter~ Puppy Reservations
Inosch Vom Reeshoop and Mocha Vom Haus Eames Litter


 
~Puppies Unavailable~

Born: May 3, 2022
Litter Size: 5 females/2 males
D Litter Puppies- SOLD
D Litter Puppies-2022 (SOLD)