Our Stud "Nino" Rex Vom Eames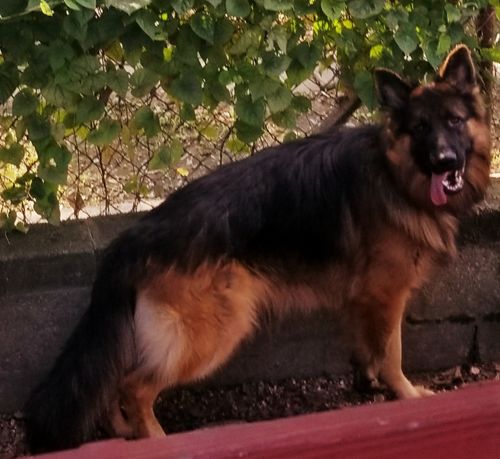 Vom Haus Eames German Shepherds offer West German show lines for Stud Service. Our Studs are from some the best World Sieger bloodlines from Germany. Our German Shepherd Studs pedigree include VA1 (USCA) Nino vom Tronje, 2X World Sieger VA Remo vom Fichtenschlag, VA Orbit von Tronje, and VA1 World Sieger Ober von Bad-Boll, Sch3.
"Nino" is the grandson of 2x VA1 World Sieger Remo vom Fichtenschlag, Sch3. You can see the deep red pigmentation and excellent bone structure in our male. He is an outstanding producer. He throws large boned, black and red puppies, with short stock coats and long stock coats in his progeny. He passes down the long coat gene as well.  
If you are looking for that top quality West German Show Line Champion bloodline you will find them here. Remo bloodlines will appear in pedigrees who have top West German Lines. 
Nino is a great grandson of VA1 World Sieger"Champion" Ober von Bad-Boll, Sch3 who is another famous male you will find in the pedigree of many top West German show line dogs.
We are happy to bring this male into our breeding program.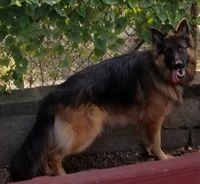 2014/2/27

SZ 2302948 (AKC DN41907903) Hip: Good - Elbows: Good microchip: 981189900046907

2007/11/22

SZ 2210253 (AKC DN38768801) Hip: SV: HD a-fast normal (a2) - Elbows: SV: ED a-fast normal (a2) DNA: Geprüft AKC DNA #V730470 Tattoo: G-A 8357

Grandeur Vom Godinghofer Weg

Kathleen Vom Godinghofer Weg
Dogs used from other kennels with our breeding program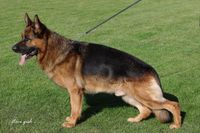 2015/11/14
SZ 2320243 Hip: OFA: Normal - Elbows: OFA: Normal microchip: 981189900069462
2011/12/28

SZ 2276432 Hip: SV: HD a-normal (a1) - Elbows: SV: HD a-normal (a1) DNA: SV-DNA microchip: 981189900010243

2008/3/11

SZ 2216142 Hip: SV: HD a-normal (a1) - Elbows: SV: ED a-normal (a1) DNA: Geprüft Tattoo: P-C 8376

2011/11/17

SZ 2273987 Hip: SV: HD a-normal (a1) - Elbows: SV: HD a-normal (a1)